The #1 WooCommerce Wholesale Solution
B2B & Wholesale Suite is the ultimate wholesale solution, with more than 100+ features and functionalities, integrating 20 separate plugin modules.
If you're looking for a complete and powerful solution for B2B, Wholesale, or Private Membership Stores, B2B & Wholesale Suite is the most advanced plugin suite on the market today. This complete plugin suite has everything you need to transform your regular WooCommerce store into a B2B store or a hybrid B2B + B2C store.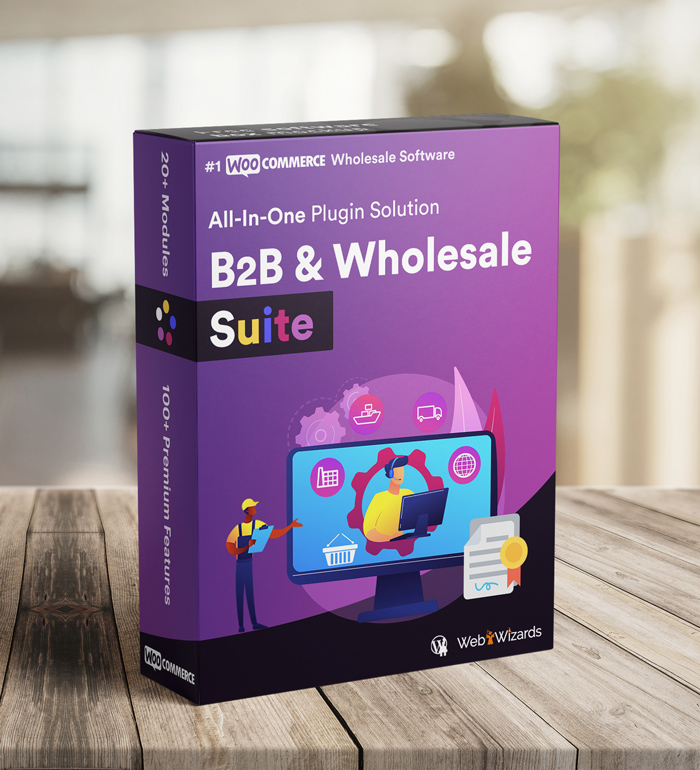 Upgrade your wholesale business today! with over 100+ premium features across 20 plugin modules. Easy, flexible, packed with features. Here are just a few of the plugin's main functionalities:
Wholesale Prices – Different Prices for Different Users
Extended Business Registration – Custom Fields and Forms
Hide Prices, Shop, or Products from Logged Out Users
Request a Quote – Customizable Form + Email Notifications
Messaging and Discussions – Communicate with Customers Directly
Invoice Gateway for Payments – Buy Now, Pay Later
Bulk Order Discounts via Tiered Pricing + Tiered Price Table
Complex Wholesale Discounts through Dynamic Rules
Separate B2B and B2C Registration Forms
Product Bundles – Create Special Bundles or Negotiated Offers for Customers
Registration Approval – Manual or Automatic
VAT Number Validation – VIES Validation for EU Countries
Shopping Lists – Allow Business Customers to Save Purchases
Product Visibility by Product, Category, User and User Group
Multi-User Accounts with Permissions Setups per Child Accounts
Content Control – Set Up Different Content for Different Users
Show Price Incl. or Excl. Tax for B2B/B2C Users separately
Complex Rules System: Minimum Order, Custom Fees, Hidden Prices, Quantity Step per Products, etc.
Coupon Restrictions
Tools Panel including Bulk Price Import
Product Details Table for Custom Data such as MSRP, Size or Additional Info
and much more! totalling over 100+ features.
30-Day Money Back Guarantee.
B2B & Wholesale Suite has been vetted by the WooCommerce team, and is being sold exclusively via the official WooCommerce website. When purchasing the plugin suite, you also benefit from a no-questions-asked full refund guarantee if requested within 30 days of purchase. This is provided by and enforced through the WooCommerce refund policy. We want to be sure our plugin is a great fit for your store.
The plugin suite bundles together over a dozen separate plugins (a quote request plugin, a wholesale prices plugin, a dynamic pricing plugin, etc.), saving you hundreds of dollars in the process. Furthermore, since everything is handled by a single plugin, the site runs better, faster, and can be controlled easily into a single central place, without any plugin conflicts.

Plugin Features & Overview

Here are just a few of the things you can do with B2B & Wholesale Suite:
Show prices including tax to B2C customers, and excluding tax to B2B customers
Provide B2B customers with special discounts, wholesale discounts, bulk order discounts, as well as negotiated price offers
Allow customers to purchase now and pay later / expect an invoice that will be settled at a later time
Set product visibility – different customers see different products
Sell single products to B2C customers, and packs/cartons to B2B customers
Display a tiered price table to incentivize customers to purchase more in order to get a better price
Receive quote requests from customers, and message back and forth through the platform to negotiate
Create a product bundle/ offer and make it available to either specific customers or groups
Organize customers into groups, and run either a B2B store or a hybrid B2B + B2C store
Set up minimum order, maximum order, free shipping, custom fees and many other rules depending on your shop requirements
Set up a custom registration form for business users, and request any information that you want, including dropdowns, checkboxes and file uploads (for instance you can check business license before approving a customer).
Hide certain categories from certain users
Hide prices from logged out users
Tax-exempt approved customers
Control available shipping and payment methods for each user or user group
Plugin Compatibility
B2B & Wholesale Suite will work with any WooCommerce installation (versions 3.0+ and up) as well as any WordPress installation (versions 4.0+ and up).
The plugin will work with any well-coded WooCommerce theme and has been tested with the most popular themes on the market such as Storefront, Flatsome, WoodMart, Porto, xStore, Basel, etc. The plugin's design will adapt to any theme due to its modular design based on WooCommerce hooks.